Kod produktu:
Z-300-3014-S-PW
We guarantee safety of transaction.

more about payments...
3528 300 SMD LED Strip + power supply + dimmer + power supply cable with a switch - pure white
Product's code: Z-300-3014-S-PW
Product available only against order.
Shipping with express

parcels from

14,00 zł
300 LED Strip 5m 3528 12V DC  warm white/pure white

---
High efficiency:

Every Strip has the diodes preselected, so that they will have exactly the same colour. Any lighting based on LED's is very efficient and energy saving at the same time. SMD 3528 LED Strips can be used to replace fluroescent bulbs. The projected life expectancy for the LED strips is about 50000 hours - almost 6 years of constant working!
Simple Mounting:
Mounting of a SMD 3528 LED Strip is very simple, thanks to 3M double-sided adhesive tape attached to the bottom of the strip. All You need to do, is to remove the safety foil, and attach the strip to the surface you want it to work on. There is no need to use any mounting brackets . Strips are powered with low voltage of 12V DC, which makes them safe to use even in bathrooms
LED SMD Strip is ideal choice for lighting low level decorative ceilings and furniture.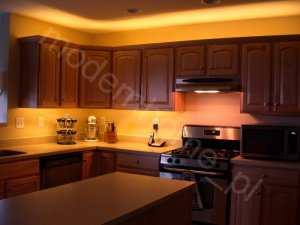 SMD LED Strip can help You to create one of a kind look for Your garden, stairs, or a balcony!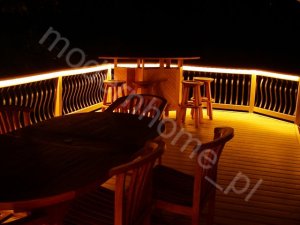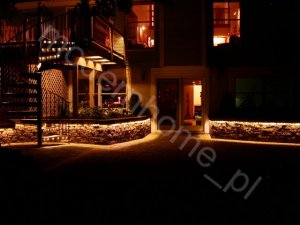 Modern Technology:
This strip is built with surface mounted SMD LED's. SMD technology makes the strip ultrathin, and almost invisible when wieved from the side.
Wide range of use:
Flexible LED Strips work everywhere You might need some light: with the kitchen furniture, at the staircases, in shops' windows. Ability to bend the strip makes it easy to mount it on curved surfaces, it can be used to create very complicated designs, or advertisements. Perfect quality of the light beam enables the strips to become the main source of light in the room, on the yacht, RV or in the tent. SMD 3528 LED's are a perfect solution for the low decorative ceilings
Strips work with low voltage of  12V DC. It is absolutely safe to use even in very humid enviroments such as bathrooms.
Technical Specifications:
- Voltage: 12V DC (direct current)
- Colour: warm white/pure white 
- Power: 4,8W/m
- LED count: 300 LED/5m
- LED count per section: 3 LED / 5cm
- Certificates: CE, ROHS
- Dimensions: width - 8mm, Height - 2mm
- Product's life span: up to 50000 hours 
---
Waterproof LED power supply adapter 30W 12V DC
Professional LED power supply, MH series are high quality power supplies, with exceptional technical parameters. Wide range of models (from 10W to 150W) will allow You to pick the power supply best suited to Your needs


Power supply characteristics:
Technical specifications:
- Input Voltage: 170V-250V AC
- Output Voltage: 12V DC
- Output Current: 2.5A
- Certificates: CE, ROHS
- Storage temperature: -80 do +80 degrees Celsius
- Work temperature: -25 do +45 degrees Celsius
- Humidity range while working: 20% - 95%
- Life span: up to 250 000h
- Dimensions: 215mm x 30mm x 20mm (length x width x height)
- Weight: 250g
Wireless dimmer with RF remote - up to 20m range!

---
Wireless dimmer designed to work with single colour LED strips. Works with RF remote. Can be used with up to 20m of 300 LED 3528 Strips (8A). 

Specification
| | |
| --- | --- |
| Voltage | DC12V |
| Work temperature | -20 - 60 ℃ |
| Dimensions | 123x14x26mm |
| Max Load | 8A |
Button functions:
On/Off
Brightness up
Brightness down
Power supply cable, equipped with the plug and the power switch, 1,9m long.

Complete power supply cable, equipped with the 230V AC power plug, and power switch located in the middle of the cable. White colour, length of 1,9m.
This type of cable is used with 12V lighting systems, along with 12V DC power supply, to power LED strips, LED bars, etc.
Set contains:
---
300 LED 3528 Strip - 5m
+
Remote controlled Dimmer
+
30W 12V DC Power supply 
+
Power supply cable
=
150zł
Sign In to create you own review.